On Friday night, since BMG was in Vegas partying it up with strippers, gambling on the NCAA basketball tournament, and basically engaging in degeneracy and debauchery which is only acceptable in Las Vegas, I joined DC and NC for a night of third-wheel dining in New Brunswick, NJ at
Delta's
. Delta's is a soulfood restaurant, well reknowned in the NJ-area, which we had been to once before, last year. Actually, I havd been there one time before that as well, but the food left a lot to be desired, I think because they were cooking for our large party (60+ people). Since I'm a fair, although quite crappy food blogger (one who would rather post inane comments about RayRay and adorable pictures of Ed Helms), I decided to go back to get the real experience and it was definitely worth it. The food was really good. This past Friday was no different.
Reservations through
Opentable
? Check. Free parking in the Church Street deck because of Good Friday? Check. Lovely dining companions? Check (double check for you, DC! Heart!). All the makings of a great dinner. So let's get to it.
We started with some drinks, DC and I each having a martini, NC sticking with beer, since he had to drive our drunk asses around after dinner. Now, I will say, Delta's has a significant martini menu (in that it's super-long, TWSS), but I'm not really a fan of the sweet martini drinks, or really any sweet drink in general, so I can't vouch for their signature beverages. I will say that my martini was really good. See for yourself: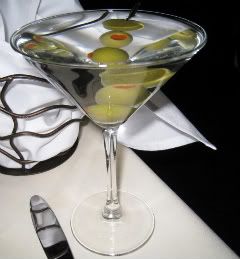 It was poured at the table, a little too close to the top (as you can see), so I had to drink a few sips without picking it up, causing my hair to fall into the drink, but it was worth it. As an added bonus, I could suck on my hair on the drive home to keep the buzz going.
We got an appetizer of the fried gator: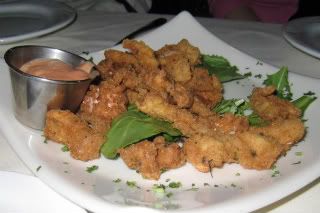 It was good. Very tasty and crunchy on the outside, and not too chewy in the middle. Even DC, who doesn't like most food items and doesn't like to try new things tried it and liked it. It came with some kind of aioli, which was a reddish color, probably due to roasted red peppers or something, mostly it tasted of garlic, which was/is (clearly) not bad.
Onto the entrees. NC had the Mahi Mahi special, involving fried, stuffed okra and succotash, DC had the smothered chicken with sides of mashed potatoes and string beans, and I had the salmon cakes with sides of mac and cheese and collard greens. You get your choice of two sides from their extensive (and I'm sure quite delicious) list of sides with any entree, causing me to remark to DC that Deltas should have a side item meal, kind of like Boston Market, except more delicious and probably equally laden with fat and sodium.
The Mahi Mahi: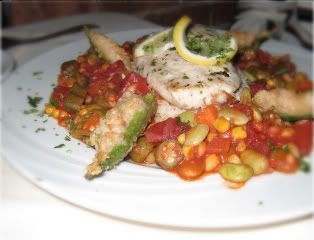 I tried a little piece of the Mahi Mahi - it was quite good, nicely cooked and tasty. The Succotash was good, too, causing NC and me to bond over our shared love of lima beans. The fried okra looked good, I didn't have any, but it was stuffed with prawns, breaded, then deep fried, how could it be bad?
The smothered chicken was covered with fantastic gravy, as were the mashed potatoes:
I didn't try any of DC's food (bitch would have cut me), but she seemed to like it, which is really all that mattered.
Here's my salmon cakes with grits. Yes, that's two salmon caked swimming in a delicious pool of corn-y goodness.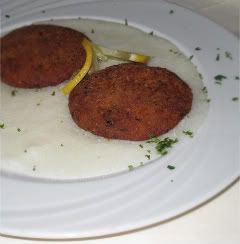 Actually, I have a confession to make. This is the same thing I ordered last time I went to Delta's. I know, I should try something new. I just really liked it last time and really liked it again this time. I can't help it, I had to order it. We'll just have to go back again so I can order something different. Anyway, here are my sides (they had to put them on a separate plate due to the spreading pile o' grits):
That man and cheese was so effing good. The collard greens were super-tender and tasted of smoked meat, perhaps a ham hock? Delicious.
My only issue with the entrees was the liberal use of chopped parsley sprinkled across the plates. I'm not a fan of the confetti garnish, but I guess the chef is. To each his own, it's his restaurant, he can do what he wants...at least he didn't garnish the food with an random herb which had nothing to do the dish (I'm looking at you Clydz, but that's a blog for another day).
The Aftermath:
Yeah, shut it, guys. It was way too much food - don't make fun of our poor showing.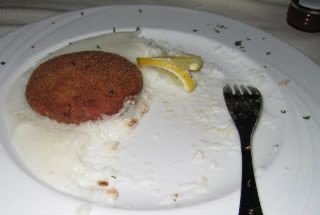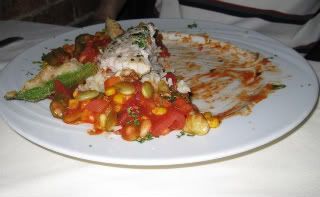 Notice how NC and I both ate half our portions. And cut them exactly in half. Like in a line. I don't' know what that means, but, in my case, I think it's a little sad.
Since we still had martini to drink, we decided to get a dessert. We had been eying up the strawberry cobbler since we sat down to eat and saw it as the dessert special for the day. So we ordered that mofo up. Well, it was alright. I'm not a huge sweet fan (yes, I know you all know that already...shut it!) and that thing was effing sweet. It actually made my teeth hurt. DC and NC both thought it was too sweet, too, so don't be all like, "Whatever, Iko, I like sweet things, you don't know what you're talking about."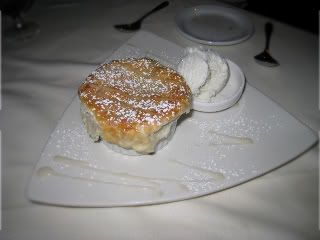 Actually, wait a minute, it's true, I have no clue what I'm talking about. Anyway, we powered through the cobbler as best we could. I should also say that I was under the impression that a cobbler had a crumbly, granola-like topping, while this had more of a pie crust over the top. Maybe things are different in the South. Can anyone let me know? Anyone? Bueller?
Here's the aftermath of the cobbler: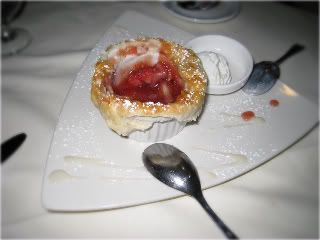 And that was it. We were stuffed. Beyond compare. We headed out to drink some wine at my apartment and watch one of each of a TiVoed "The Daily Show" and "The Colbert Report." I took the extra food home to have for dinner the next night. It was just a delicious microwaved up the next day.
Overall impressions: Good food, way too much of it, perhaps too liberal use of parsley
hacher
, and a (perhaps) not-a-cobbler. Also, delicious martinis. As we were leaving, a jazz band was just starting to play, so it may be worth a trip solely for drinking and bar food one night, just to listen to the band. Another blog for another day? I hope so - it means I get to go back soon!