I really like Food Network. It's probably no secret, I mean, this blog is mostly about food, TV, and Ed Helms. If Food Network made a show with Ed cooking his Atlanta-based favorites, I'd probably never stop watching. That said, I'm not so into the competitive shows, like "Food Network Challenge" or whatever (especially now that it (or something like it) is hosted by Guy Douchebag Fieri). I like to watch legitimate chefs cook, not Sally Homemaker use Bisquick in a new, inventive way (deep-fried oreos, anyone?). That said, I really like "Iron Chef America," "Dinner: Impossible" (Chef Irvine is inexplicably attractive to me, maybe it's his giant man-arms), and "Throwdown." Now, I know what you're thinking, "Iko, how can you watch that pompous jackass, Bobby Flay?" Well, I'll tell you. I think he's cute and find his arrogance endearing. There. I said it. Whatever, guys, his food's good, too.
I think FN gave him the show to help make him seem less pompous.
For example, the formula of the throwdown:
1) Find someone who makes the best ____ .
2) Have a bike messenger deliver B. Flay's mission for the day in a staged, yet hilarious, situation.
3) Put B. Flay with two women who kind of insult, yet flirt with him, as they try to make the best ____ , instead, in the FN kitchens.
4) Have BF surprise said "someone," challenge them to a "throwdown," and film awkward reaction shot of the someone 15 minutes into the show ("Damn you, B. Flay, you came in so unexpectedly...what does my hair look like...I'm going to kick this cocky mofo's ass").
5) Have Bobby make a ridiculously upscale version of whatever the item is for a twofold purpose, first, to let the judges know which is Bobby's, and, second, so the judge can make the obligatory, "while this is GOOD, it's not a true _____."
6) Have the "someone" raise their arms in victory and warn others about the throwdowns to come.
Bottom line: look at how friendly and up with people Bobby is. He's not pompous, he loses so graciously...
So, anyway, I love "Throwdown." Plus, you learn about new foods, too. Like the
Kentucky HOT BROWN
. I had never even heard of it before that show...suddenly I wanted one so badly! Luckily, a friend of mine, we'll call her BW (no, come on people, it's not this
BW
), decided she couldn't live without one, either. Thus resulted the field trip to one of Bobby's restaurants,
Bar Americain
, where the HOT BROWN is on the lunch and brunch menu. Since we're not degenerates, we had to go for brunch - we can't be skipping out of work to go eat a HOT BROWN during the week, now, can we?*
The reservation was for 1:30 on Saturday (brunch from 11:30 - 2:30), a good time to go, the restaurant was just emptying out when we got there.
Clearly, the first thing we did was order alcohol. The drink menu is not large (that's what she said) but the drinks were all awesome. Seriously. I would just go drinking there...who needs food? Here are my Bloody Mary, BW's B & T, and the basket of delicious breadstuffs with strawberry jam (also PW's hand).
Next up, the food!! Clearly, we had to get a HOT BROWN!!! But, since I think it's lame to order the same thing as the other people you're dining with, I ordered the poached eggs with Tasso ham, and smoked pepper hollandaise. And, because BW is my hero, she ordered the Vidalia onion soup, too. Here's the food:
Soup: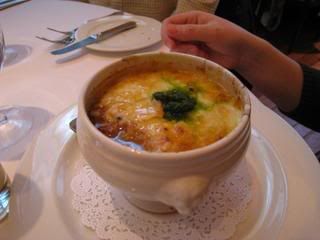 Poached Eggs: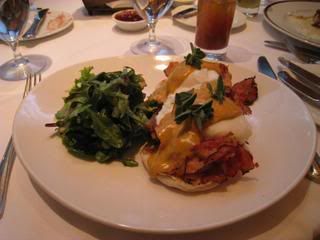 THE Mother-effing HOT BROWN!!!!!
Yeah, jealous, aren't you? That bacon. The melty Mornay Sauce (that's a bechamel (white) sauce with cheese for you non-French-food-inclined people). Oh baby. The drool is starting to form.
The food was really good. I kind of expected it to be OK, you know? Pricey, but ultimately alright, nothing spectacular. But, it was really good. Still pricey, though. My eggs were cooked perfectly and looked good, which, if you've ever tried to make poached eggs, is not an easy task. The Hollandaise sauce was great, not to mucus-y and thick. The salad was freshly dressed and the tasso ham had a delicious, rich, smoky flavor. The HOT BROWN was also great...very, very heavy and filling, but delicious. Although, anything smothered in a melted cheese sauce can't be that bad, right?
Here's the aftermath. Strong work, BW! Damn, I should have eaten that last piece of bacon.
After all that eating, what's a group of people to do? Drink more, clearly. I mean, it was only 2:45, we had to prep our livers for the onslaught to come later. So, we all had a post-brunch drink, you know, to help the food settle. I guess I should mention there were six of us eating, so you know (now) that I have more than one friend. I chose the
Dark 'N' Stormy
as my post-ingestion drink. Rum-y and good!
Once the drinks were imbibed, it was clearly time to leave...the damage to our wallets had been more than done, plus any more alcohol and we were going to have to take a nap on the banquette before leaving. And our waiter wasn't going to want any part in that...he seemed kind of pissy since we were basically the last group in the restaurant. Before we left, we fashioned a parting gift for him out of some leftover food on the table.
Thus ended our field trip, and a strong one at that. Here we are happily frolicking outside after brunch!
Overall Verdict: The drinks are very good. The food is good, well prepared and served in a pleasing manner. The waiters are pissy, but maybe it was just with us. I'd go again. I hope Bobby's there next time - I'm itching for a short rib throwdown...
*Apparently, we can BLOG about it while we're at work, though.