Actually, there is NO way you could be as jacked up as Derek Jeter. Seriously, I'm sorry. I feel like you kind of lose track of just how big those guys really are when you watch baseball on TV. I mean, all of them are huge (except maybe for the David Ecksteins and Edwar Ramierez-es), I know this, but when you see them all on the field together, you just kind of assume they're all normal-sized. It's like the opposite of the optical trick (illusion, Michael...illusion) in which your eyes think the line with arrows pointing out is shorter than the line with the arrows pointing out...or is it the other way around? Regardless, those drunk/angry people who run out onto the playing field clearly have no idea what's in store for them until the players take them out. If they did, there's NO way they'd head out there. Seriously, no matter how drunk you were, there's no way you could possibly think you could take down
Prince Fielder
. I can't even imagine how badly it would hurt to smash into a Jason Giambi or a
C.C. Sabathia
at full speed. It'd probably be like running into that elephant at the zoo, ramming his head into the cement post. But, all this talk of Jeter being giant...I'm getting ahead of myself...
When we last left off, we had left the Yankees hotel and headed back to ours. Tuesday we woke up and decided to hit up the culturally and intellectually stimulating landmarks within the Downtown Toronto area. First up,
Casa Loma
, the home of Sir Henry Pellatt, a very rich guy.
First we had to climb an ass-load of stairs to get there: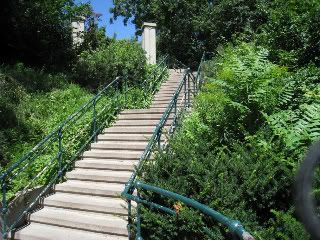 Here's the entrance and some random people who rudely walked in front of my camera:
Here's the main hall area, with organ pipes: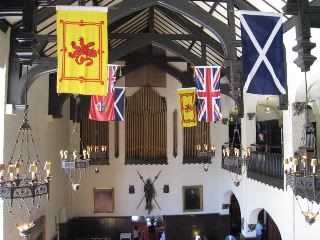 And, here's the aforementioned organ:
The grounds of the estate were very lovely and it was a beautiful day, too, so I got some nice pictures outside: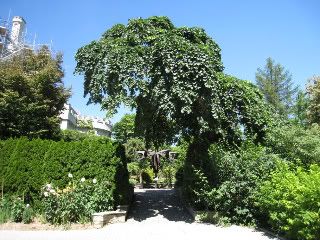 Then it was off to eat lunch at
Wish
, on Yonge, near Bloor Street. Clearly, we had to fortify ourselves with alcohol, in addition to food, so I had a mojito and BMG had the girly-est drink ever - a pomegrante martini.*
Next, it was off to the Royal Ontario Museum (ROM). Here it is:
Fancy, right? I know.
Here's some stuff inside the ROM: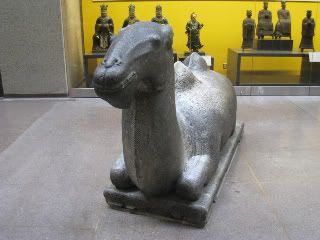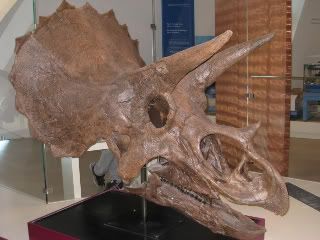 After the ROM, we were quite exhausted from all the culture, so we headed back to our hotel to get ready for the first of the three Yankees games and an evening of more stalking afterward.
The game was a good one, even though the Yankees lost (entirely due to Johnny Damon being unable to catch a fly ball...twice) - Rasner pitched well and our seats were pretty good, except for the man next to me reading
The Wall Street Journal
and randomly circling words and titles of articles. Here's the stadium: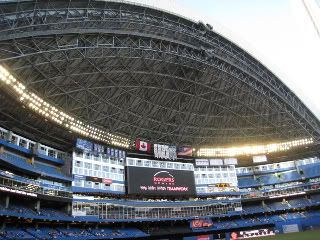 and a few pictures of the game - sorry, my zoom isn't so great on my point and shoot camera, although it's good for the (low) quality of pictures I take - stay tuned for part 3 of Toronto in pictures...my camera plays an integral role.
A meeting on the mound when they took Rasner out: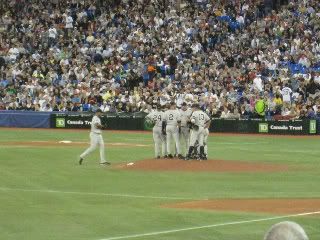 A-Rod staring dumbly into the stands: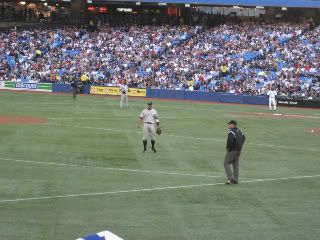 Derek Jeter batting: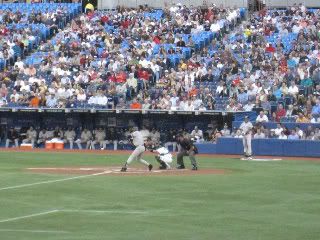 Once the game was over, we headed back to the hotel so I could ho myself out for the Yankee stalking. First we went to Sassafraz, to grab a quick bite (some delicious Canadian cheeses and wine) and to see if any of them were there drinking. They weren't. So, we headed back over to their hotel. There were a bunch of fans standing outside waiting for autographs, so we figured we wouldn't see anyone inside, but we went in anyway and headed up to the bar, again taking advantage of our fancy clothes.
As soon as we got off the elevator outside the bar, we saw hotel security rounding up a family and kicking them out of the bar. "Success!" I thought to myself. Security was clearly kicking them out for harassing SOMEONE fancy in the bar-area, right? Although, to be fair, I guess they could have been kicking them out because, you know, they brought an eight year-old into a bar. Anyway, as soon as we walked in, we saw Johnny Damon and (everyone's favorite) Sidney Ponson, having a drink with some friends in the corner! "ZOMG!!!!" I squeed to myself (about Damon, not Ponson), but, remembering the security rent-a-cops just behind me, I quietly took a seat at the bar with BMG.
The next thing we knew, we heard rumblings from the masses: Derek Jeter and A-Rod were outside on the balcony drinking! ZOMG!!! We then clearly tried to go out onto the patio, but were told by rent-a-cop #6 that it was full, so we headed back to our seats at the bar to drink and leer shadily at Damon and Ponson. At one point, Damon walked past me on the way to the restroom and I wished him "good luck" for tomorrow, to which he sheepishly smiled and said thank you. However, my elation at actually having Johnny Damon acknowledge my existence was short-lived, as, before we knew it, the man himself, Derek Jeter, was making his way into the bar from the elevator! And, let me tell you, that bitch is BIG. Like, I wanted to yell, "Blazin' Copper" across the room at him, but I think one of his legs is as big as all of me. Instead, I kept my mouth shut and turned my leery gaze from Damon to Jeter. We couldn't figure out who he was sitting with, but we didn't have long to wonder as, wouldn't you F-ing know it, A-Rod randomly came inside from the balcony, looking at his phone (probably a message from the girls at The Brass Rail to come over - I would link to The Brass Rail, but it's probably NSFW and really NSF anyone) and wandered over to Jeter's table. Um, yeah, you know how I said Jeter was big...A-Rod, well, he's super giant. And both him and Jeter are pretty funny looking without their hats. Just saying. My love for Bernie Williams has been well-documented, so I'll spare you from my inane ramblings about how Bernie's the cutest and how A-Rod and Jeter will never compare (but it's true).
A-Rod and Jeter talked for a bit, then A-Rod left (again, probably to hit up The Brass Rail - strippers need loving too). We were planning on leaving at midnight, which is the alleged curfew of the Yankees, but they were still there at midnight, drinking away, Ponson ordering another round...so we stayed for a bit longer. Unfortunately, security stayed too, so, eventually, we cut our losses since we weren't going to get any pictures or autographs (and Gardner wasn't there). Honestly, I would have felt badly harassing them, they just wanted to all have some drinks and probably not talk about baseball at all, being that they're kind of sucking and probably won't make it to the playoffs at all. On our way out, I said good luck (again) to Damon and Ponson, who were nice about it and said thanks. As I walked past Jeter, I wished him good luck, too, to which he responded with a short, but pleasant thanks. Apparently he wasn't so nice about BMG's ramblings ("Derek I love you...can I have your babies? KTHNXBYE!!! SQUEEEE!!!" Actually, he just said good luck, too) and sneered and rolled his eyes at him. The benefit to being a girl, I guess, although I would have preferred to see Gardner over Jeter, let's be fair.
So, we cabbed it back to our hotel and hit up the bar there for a night cap. It was there that we met the best person ever, in all of Canada, Yul, from now on Greatest Bartender Ever (GBE). When Yul found out we were in town to see the Yankees play, he regaled us with stories from the 80s and 90s when all the baseball and hockey teams stayed at his hotel and drank in his bar. He knew EVERYONE. Like EVERYONE. He told us fantastic stories about the players and managers and told us he even gets free tickets all the time from the teams that stay there now! And, his favorite player is Dave Winfield, to boot, so you know BMG found a friend for life. Yul is the greatest. Seriously, if you have time, just Google "Hilton Toronto" and "Yul" - other people feel the same way. Sufficed to say, we spent a lot of time in the hotel bar in the subsequent days.
Thus concludes Part 2. Stay tuned for Part 3, sadly no more Yankee stalking (though not for lack of trying), the Beer Bistro, Reds Wine Bar, shopping, and one of the most horrible Yankee losses in recent memory...thanks Ponson.
*The waiter did a complete double take when he ordered it. I imagine he had initially prejudged us as a couple out having a nice lunch, then amended his judgment - such that I was a hot, single lady, taking her gay friend out for lunch.