So, AbS ventured down to Philadelphia, PA (the city of
brotherly crunch
) this past weekend to celebrate the birth of BW. You may remember BW from such posts as the
Bar American adventure
, among others.
Friday night was the surprise party, which was pulled off quite artfully by EdT, as BW had no idea and was quite surprised. A good, drunken time was had by all, especially me, as I didn't have to drive home on Friday night. After a strong Saturday afternoon of TiVoed shows, lunch, and a trip to the butcher, we were off to Philly to
Fork
, for dinner.
OK, actually, we went to
Patou
for a pre-dinner cocktail, as we arrived early for our reservation and, clearly, needed the liquor to help numb the pain of the night before. I chose a vodka martini, after contemplating the wine list, while BW chose...something purple. I think it was "the voltaire" after a quick consult with the online menu. Here they are: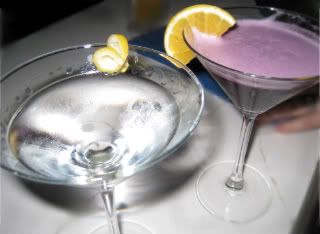 BMG and PW opted for a gin and tonic and a glass of scotch, respectively, both poured with a heavy hand by our faux-hawked bar tender - not so good with the hair, but good with the pour. Here's a crappy shot of the bar:
We spent about an hour at Patou, then headed next door for our dinner at Fork.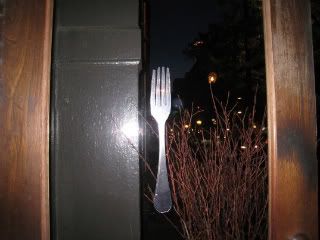 And let me tell you, what and effing dinner it was. Seriously, made of awesome. It's honestly the best dinner I've had in a long time, including food I cook for myself, and I'm pretty biased toward my own cooking (and pretty arrogant about my culinary abilities - mostly kidding). Wow. Where to begin? With appetizers, of course!
BW, PW, and I are all pretty adventurous when it comes to trying food, so the three of us decided to get a bunch of appetizers and share them, then BW and I would share an entree and another appetizer for dinner, we didn't want to have THAT much food (although we did anyway). PW chose the Hamachi Sashimi, with chili oil, basil, and carrot-cucumber slaw, BW selected the roasted beet salad, with goat cheese and mache (also known as my favorite green ever), and I opted for the seared scallops with watercress, green mango, and curry-citrus vinaigrette. OK, sorry to invoke RayRay here, but YUM-O! All of it was so, so, good. The scallops were giant and cooked perfectly, the hamachi was so fresh and tender, the roasted beets paired fantastically with the goat cheese and pear (and the mache, of course). The salads were all dressed properly (a pet peeve of mine), not too much dressing and clearly dressed just before being sent out, not all wilted from wallowing a puddle of vinegar for 20 minutes.
The Hamachi: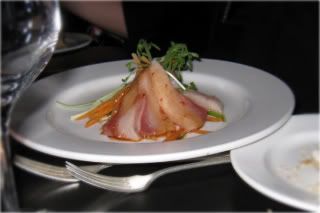 The Beet and Goat Cheese Salad with Pears:
The Scallops, oh, the scallops: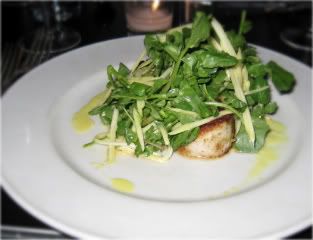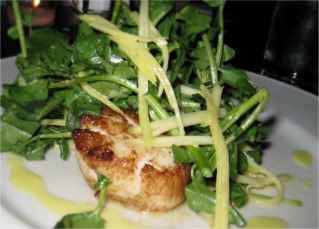 For the actual entrees, BW chose the Duck Confit with Frisee and Bacon, while I chose the Hangar Steak with Chimichurri, Yucca Fries, and Sauteed Chard, again, to share between the two of us. The duck confit was SO good. You know how sometimes you get crappy confit, when it's really chewy or super greasy? Yeah, this was the opposite of that, falling off the bone delicious and so tender.
My steak was really good, too, although, thinking back and looking at the picture, I don't think it had any chimichurri on it. Maybe it did, I was a martini and two glasses of wine in at this point, so it's definitely fair that the sauce was on there and I completely ignored it and promptly forgot about it. I will also say that I ordered this steak medium-rare and it totally arrived medium rare. Awesome. I heart their grill man.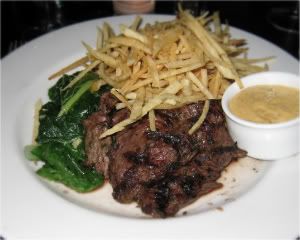 BMG had the NY Strip Steak and substituted the Brussel sprouts for snap peas, since he's a baby and wouldn't try them. His steak was really good, too, a
perfectly
cooked medium and full of beefy-goodness.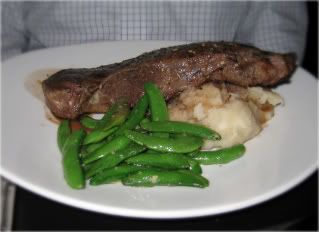 Notice his smart-casual shirt in the background.
PW had Seared Duck Breast with Citrus Glaze and Lentil Salad: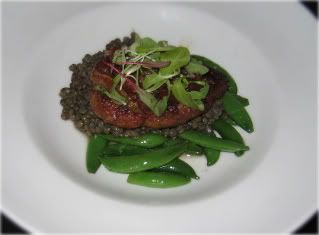 Now, I love lentils, more than most normal people, but I will probably never like any lentils as much as I liked these. No joke. I wish I could go to Fork, steal their recipe, and make them for myself everyday. Luckily for me, PW isn't such a huge fan of lentils, so I got to power-through a whole lot of them.
Here's the aftermath:
Special thanks to PW's hand for properly indicating the aftermath.
So, you're probably thinking that's it, right? I mean, how could normal humans eat more food? Well, we did. I mean, it's BW's birthday weekend - we had to get dessert, right? (I'll also say here, I'm not sure these dessert descriptions are exactly correct, they've changed the dessert menu since this weekend, so it may not be exactly what we had. I'm sure BW and PW will correct me if I'm wrong, though).
BW's Strawberry-Rhubarb Spring Rolls with Basil Gelato: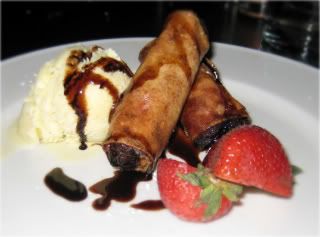 The basil gelato was made of awesome. I'm not a huge dessert fan, but I would bathe in that stuff.
BMG had the Chocolate Mousse Cake with a side of Milk: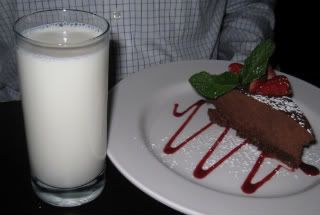 Bonus points to the restaurant for not even batting an eye at BMG ordering a glass of milk with dessert.
I had a cheese plate for dessert, which, by the way, is a giant mistake after gorging on food over the previous hour and a half. I didn't really think it would be a problem, but, unfortunately, I forgot that I normally have NC with me to help power-through the cheese. Nevertheless, I ventured onward, to my eventual stomach pangs due to extreme fullness. The cheese menu was actually fairly good sized and very varied. I selected three different cow's milk cheeses, as those are my favorites and also because I'm kind of lame. I think I would have been OK with just the cheese, but the selection came with a bunch of other stuff, too: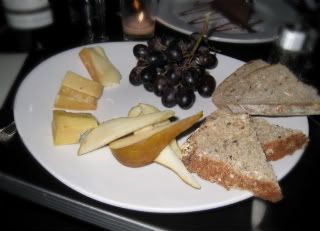 Oh fermented lactose, why can't I quit you?
That was pretty much it. I don't think it would have been possible to eat any more food after that showing, plus, we had to drive back to BW and PW's house, so no more alcohol (not that any liquid would have fit into our already distended stomachs). Thus, we returned home, just in time to watch Shia on SNL (MacGruber!) and go to sleep. All in all a fantastic evening.
And, seriously, if you find yourself in Philadelphia at any point in the near future, run, don't walk, to Fork. Well, maybe call ahead and make a reservation, then run there. It's totally worth it.