Well, as referenced
here
, it was MD's birthday last week, so, to celebrate her momentous birth, her, NC, BMG, and I (you may remember us from such posts as "
I Am Dehydrated - and So Can You: The Story of "Clinical Depression" and Otto
" and "
DC - Day 2 (Subtitle: We are hungover - and so can you)
") ventured to New Brunswick, NJ to dine at
Daryl Wine Bar
. The wine bar is relatively new, I think it opened around November of last year, and I had been there to have drinks before, but never dinner. Until now. And, now, I may never be able to go back. Well, actually, I think we should be OK, we just were kind of drunken and jackass-like by the end of the evening.
At any rate, the previous times I had been to Daryl, I had enjoyed myself. Their wine list is incredible, clearly beyond my realm of comprehension of wine (I tend to gravitate towards Rioja or a Malbec) and the desserts we tried during our second visit were actually quite delicious, if a little overpriced. My impression of the food, however, was pretty much nonexistent, with the exception of having leered at other people's food on the two occasions I had been there before our fateful Wednesday night dinner and the quick peeks at the online menu. I was a little concerned about the food, not because I thought it would be bad, but because MD and BMG are
slightly
picky when it comes to eating new foods, so I hoped we'd be able to find some things for everyone to eat.
Mini-rant Alert: Now, the restaurant bills itself as serving small-plates which is clearly fine by me. But, honestly, they don't have that large a selection of small plates, which I guess is fine, if the menu changes daily or weekly, but the same menu has been up online for a while now, and it didn't differ that much from the menu given to us when we sat down. Also, there are some "Chef's Signature Dishes" on the menu, as well, which I guess are supposed to be treated as entrees by people who don't like eating tapas-style. But, if you don't like to sample lots of small dishes, why would you go to a tapas-style restaurant? Even more inexplicably, there are two giant steaks at the end of the menu, which, in my opinion (which is clearly worth nothing), have no place at a small plates restaurant. I guess they're trying to appeal to a wide range of clientèle, being that it's a new restaurant, and maybe they're still trying to find their footing, which is clearly fine. I don't own a restaurant, so WTF do I know? Anyway, here's the food:
Mimi-Burgers with Bacon and House-made Ketchup: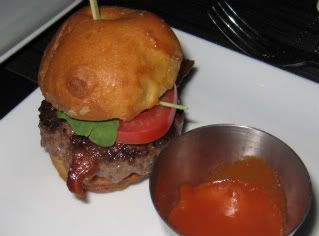 Pizza With Caramelized Onions and Peppers: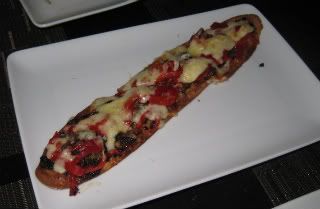 Fideos: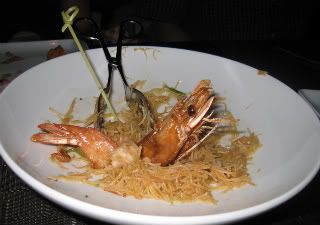 *Important Note: this is NOT how the fideos was served to us. We clearly had imbibed too much rioja at this point and decided to make a sculpture using pieces of the prawn and the skewers from the mini burgers. I thought it was quite fancy.
It should also be noted that NC and I shared the Selection of Artisanal Cheeses as a starter, as well, however, I don't have a picture of the plate (because I forgot to take one). Regardless, we weren't such fans of the cheeses they selected, a little too heavy on the goat's milk and blue cheeses.
Here are the entrees.
Roasted Organic Chicken with Pepper-Thyme Jus (MD and BMG both got this, I told you they were
picky
- just kidding guys, you know I love you both!):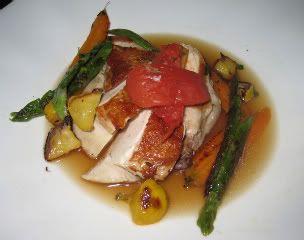 Seared Sea Scallops:
Salad of Duck Confit and Beets with Greens (my first entree/small-plate):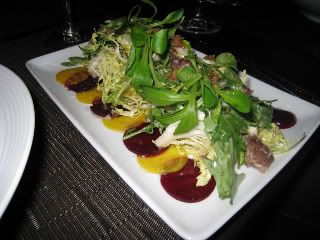 Sweet Long Pepper (yes, I just wanted to say "sweet, long" which is why I ordered it, shut it. That's what she said) Stuffed with Short Ribs: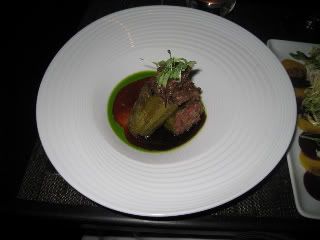 OK, enough with the food...how was it? Well, mixed. The cheese plate was kind of a bust, which I mentioned before, but the mini burgers were awesome. And cooked to a medium rare, which made them particularly flavorful and juicy. The pizza was just OK, passable, but not worth the $10, $15, or whatever we paid for it. The fideos was good, but it was an odd size for a "small-plate" (too big), and really hard to share, being that there was one giant prawn placed atop a bed of noodles, so we had to hack it apart using a butter knife and try to split it evenly amongst the three of us (MD won't eat shrimp). The chicken went over well and the waitress (and chef) graciously substituted asparagus for baby carrots, when we asked. NC's scallops were very delicious, perfectly cooked and so sweet and meaty, but, again, three giant scallops on their own, not so much of an entree. Why not just serve one or two with a salad (in the
style
of
Fork
) and make it a true small plate? My food was alright, the salad was good, well, the beets and greens were, the duck confit was inexplicably salty, like almost not edible, and considering how much I heart salt, that's an accomplishment. The stuffed pepper was actually pretty good and extremely long and giant (TWSS) - I couldn't finish it. The short ribs were very tender and the entire filling was really well seasoned and tasted great with the sweet pepper.
At this point I was pretty much finished, but the others wanted some dessert, so we ordered that and some more wine. MD and NC shared the Strawberry Shortcake (? - it's not on the online menu and my memory after the pepper is hazy, at best):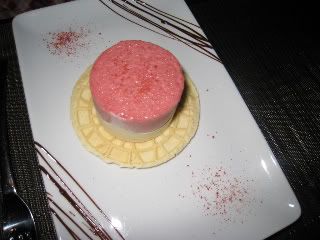 BMG ordered the Chocolate Napoleon (with glass of milk, and, even more disgustingly, a glass of grappa, as well):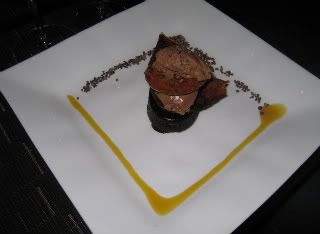 Here he is toasting himself with his two beverages: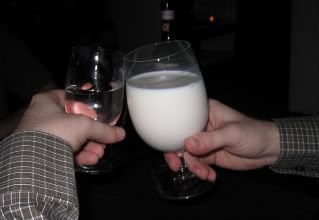 For my dessert, I polished off the rest of the second bottle of wine and had a glass of Prosecco in honor of MD's birth. Here we are toasting her arrival into the world: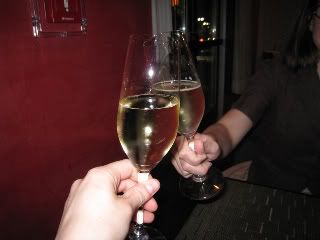 So, how was the dessert? The Chocolate Napoleon was allegedly good, especially with the milk and grappa, as BMG polished it off with no problems. The Strawberry Shortcake was good, too, but I distinctly remember hearing the phrase, "It tastes like
Frankenberry
" uttered from the other side of the table.
So deliciously fruity!
Overall impressions: it was good, but not at all as good as I thought it would be, based on the reviews I had read. And far too expensive. I mean, I'm certainly not rich, but I have no issue with spending a good amount of money on wine and dinner. I just take issue with paying a lot of money for food that's just passable. Some of it was really good and some of it I would not ever order again. Maybe it was because it was a random Wednesday night or because we all look young and the chefs thought we wouldn't care whether the food was good or not or because we ordered relatively inexpensive bottle of wine. Maybe they were just having an off night or maybe my palate is effed from drinking too much wine, I don't know. It's just my opinion.
Bottom line, if you like wine go to Daryl to drink (they have an awesome selection of wines by the glass, too) and order the mini burgers if you're hungry. Otherwise, you're better off going to
The Frog and the Peach
or
Stage Left
or something.
As for the jackass behavior, after dessert I think we took about a million pictures and took forever to pay the bill. That said, we left a very generous tip and bought a ton of food and drinks. And, to be fair, not that many people were left eating by the time the extreme degeneracy began. So, we left, went home, and watched "Top Chef," otherwise known as the most horrible episode ever, in which Dale went home.
Up next:
The Stanton Social
.