Some of you may remember, way back when AbS was born, that KN and I
jaunted to NYC
to see "
The Lonesome Trio
" perform at
The Parkside Lounge
. Now, I'm not going to lie, we mainly went to stalk Ed Helms, but KN and I happen to also like bluegrass, so, we figured even if Ed bailed out, because he got word of degenerate girls stalking him at the show, we'd have a good time. And we did. And we saw Ed! And even talked* to him! Actually, mostly, KN talked to Ian Riggs, the bass player for "The Lonesome Trio," who then very kindly got Ed to take a picture with us. Clearly, from that moment on, our love for Ian Riggs was cemented. It didn't hurt that we a) were completely enamored of his playing stand-up bass and b) thought he was absolutely adorable.** So, when we started searching the internets for shows in which Ian was participating one night (written about as the drunken debacle that was "
The Return
"), we were delighted to find out he was playing with
Ethan Lipton and his Orchestra
at
Joe's Pub at The Public Theater
at the end of May. Being that KN's graduation/birthday were also at the end of May, we bought some tickets as a way to celebrate KN and stalk a person who is not Ed Helms.
The show we got tickets for didn't start until 9:30pm, so we decided to grab dinner before the show, then head over to the theater, rather than eat at Joe's Pub - which I'm sure is fine, but I figured we could do better. I had wanted to go to
The Stanton Social
before, but it hadn't worked out, luckily, I was able to get a reservation for 6:00pm on the day of the show, which, yes, I KNOW, is kind of early, but we had seven people going to the show and we had to walk from the restaurant to the theater and I wanted to make sure we got in line early, so as to get prime, front-row seats. You know, ones perfect for optimal stalking.
So, first the food! The Stanton Social, for those of you who don't know, is a small-plates restaurant, which I thought would be good for a big group (good for sharing) and also good for those in the group who are not as food adventurous as others (good for selecting only steak or bread). And, it filled the bill well. We kind of all ordered our own food and some of us shared, so here's what we ordered:
Nori Spiced Tuna Tartare Roll
Empanadas (stuffed with...something)
'Old School' Meatballs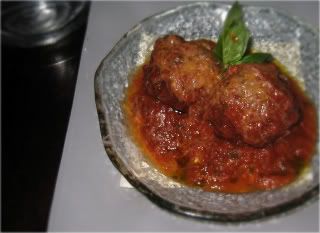 Grilled Apple and Brie Quesadilla
Kobe Slider and Lobster Roll Slider with Potato Chips
Some delicious pickles
More of the Lobster Roll Slider
We also ordered some other food, of which I either didn't get pictures or took the crappiest pictures ever (yes, the ones above are the best of the bunch, sadly, I really need to take a photography class or something). These food items include the Bistro Salad, the Baby Back Ribs, and the Moo Shu Shrimp. Overall, the food was pretty good. I wanted to go to the restaurant to try the food, first and foremost, as I had heard it was good from a number of people, but I was a little concerned that the trendi-ness of the restaurant came at the expense of actual legitimate food. Of the food above, I had the tuna roll (very delicious), the lobster roll (good, but a little chewy and too mayonnaise-y for my taste), and the Moo Shu shrimp (tasty). I also had the Bistro Salad, which, honestly, I was pretty disappointed with. It came with a poached egg laced atop it (sounds good, right?) but the egg was completely cooked through. The whole point of the egg is to break into the yolk and allow it to ooze it's egg-y deliciousness all over the salad, which, clearly, as the yolk was a solid mass of yellow-semi-deliciousness, it couldn't do. Plus, the salad was over-dressed and the bacon was either rock hard or too chewy. Not good. I actually was unimpressed with the meatballs, too. The balls of ground meats were good, but the sauce was sweet, like way too sweet, maybe honey? Too much sugar? I don't know what happened. I'm guessing the sauce is normally not like that, so I'll give them a pass. The rest of the food, I can't really tell you about, as I didn't eat it, but no one was disappointed in their choices, so I guess that's a good sign.
For dessert, we got a few of the chocolate tastings, the Strawberry Shortcake sundae (?), and some kind of cheesecake, the latter two aren't on the online dessert menu, so I'm not so sure about them, sorry. Here's the chocolate tasting with the sundae in the background;
And, here's the cheesecake:
I only had a little bit of the chocolate tasting (that little bit being the DELICIOUS peppermint patty), so I can't write anything about the desserts, other than they were all eaten. So, they were probably good. Brilliant powers of deduction, I know.
Overall, I'd say the restaurant was good. Probably slightly better than good. WAAAAAY too expensive, but slightly better than good. I think it's a little too trendy for me, I'm more of a jeans and T-shirt kind of person, who doesn't mind getting dressed up to go out to eat, but, not when I have to trek about Manhattan all afternoon and evening. I definitely prefer the hole-in-the-wall restaurants, casual atmosphere and delicious, fairly-priced food. That said, I would recommend eating at The Stanton Social, especially if you're eating with a group of people with highly varied tastes in food.
OK, enough of that, onto the real reason we went to New York - to stalk Ian Riggs! So, after dinner, we meandered our way across the short distance to The Public Theater, where we arrived about 45 minutes before the doors opened. And we were the first people in line - what losers we are! So, we waited for the first show to get out before we were ushered inside to our seats - right in front of the stage and off to the right side. Ethan Lipton and His Orchestra were playing the show with
The Lascivious Biddies
, whom we knew nothing about, but, whatever, it was an adventure, so we weren't to concerned. Ethan Lipton played first and they were awesome. KN and I yelled towards Ian Riggs when he was announced, but, unfortunately, he was on the opposite side of the stage from where we were seated, so we didn't get to see him as much as we wanted. But he was really great. And still adorable. His voice is amazing. The Lascivious Biddies came out to play a song with them, then they switched and the Lascivious Biddies sang a set, with Ethan Lipton, et al. coming out to join them for a song. Both groups were really good, although I was clearly biased towards a certain group (and person) in particular. I would definitely go see either group again, no question. I highly recommend them both.
After the show we had to leave to get back home, but KN and I managed to pass Ian on our way to the restroom before we left and I, in true Iko fashion, blurted out, "Great show!!" to him as I sprinted by him on my way. To be fair, he was having a conversation with someone, which I didn't want to interrupt, but I should have at least paused for a few seconds before running away like a degenerate. He was extremely nice to my degenerate ass and "thank you" quite enthusiastically as I ran away. So cute. And so sad for me. And so sad for you, as no pictures were allowed inside the theater, so no photos for you! Sorry. You'll just have to get tickets to go see them yourself. In retrospect, I should have just taken a picture with him at the end...what's the worst thing that could happen? I get kicked out? The show was over, how much damage could THAT have done?
So, thus ended our stalking trip to Manhattan. I hope you enjoyed reading about our thinly-veiled degeneracy. I'm sure more stalking is soon to come...perhaps Ed will be in New York at some point over the summer?
*By talk, I mean Ed asked a series of very legitimate, questions, like "how did you hear about the show?" and "where are you guys from?" to which I was unable to respond in any type of intelligent fashion. So, mainly Ed talked at me and I acted like a mute jackass.
**And, as I just learned from Ethan Lipton's site, is
single
! Ladies, can I get a WOOT!!?