In honor of
"The Return"
of "30 Rock and "The Office," some friends (KN, MD) and I decided to have a Mexican Fiesta, to celebrate and give us an excuse to drink excessive wine on a weeknight. Yes, I know rioja isn't Mexican, but it's Spanish...and there is Spanish spoken in Mexico. So that makes it OK.
On the menu: Chicken and Pepper fajitas, corn, rice, lots of wine, and the
BEST. ICE CREAM. EVER.
More on that in another post.
For the chicken fajitas, I made a marinade of olive oil, lime juice, lime zest, garlic, cilantro, and some secret spices. Then, I cut the chicken breasts in half lengthwise and added them to the marinade and let them sit in the fridge for about two hours. I would have let them marinate longer, but I didn't get home from work early enough...
Marinade: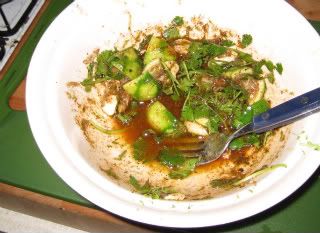 Chicken in Marinade: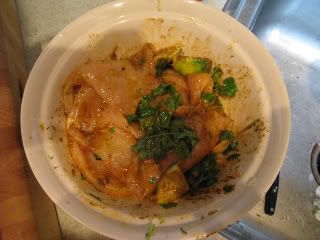 Once KN had arrived with the rest of the food, I prepared the other delicious things.
Sauteing the onions:
Chopping the peppers and cilantro (on my fancy new bamboo cutting board, endorsed by none other than duck-fat-as-gel himself,
Ming Tsai
):
(If you're really crafty, you can see some of my secret spices in the background...)
Grilling the chicken: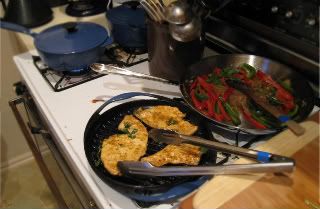 Please excuse my filthy stove...that chicken was spitting like a MOFO on the grill. Plus, I haven't cleaned my stove in a while.
While I was busy in the kitchen, KN took over my usual duties of fashioning the TablesKape. Here it is (!):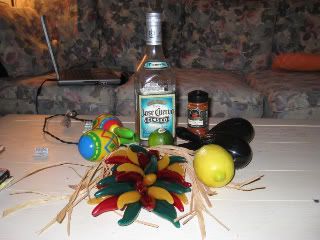 Chili pepper lights, some tequila, two pairs of maracas, some chipotle pepper powder, a lime, and a lemon. All Mexican inspired items, except for the lemon. But every good tablesKape must contain a llllllllemon, Aunt Sandy requires it. And we don't want to piss off that bitch. She'll make us eat the
Kwanzaa Kake of Racial Insensitivity
as punishment.
"Glamor" shot of food:
There were also some multi grain tortillas and the delicious fajita toppings of sour cream and freshly shredded cheddar cheese (the good stuff, none of that Sargento Mexican blend nonsense).
My plate of food:
Notice we had actually plugged the chili lights in at this point. Unfortunately, due to my lack of extension cord, we had to remove them from the main tablesKape in order to plug them in. Thus, we were left with the main sKape and a kind of auxiliary tablesKape. I think Aunt Sandy would be proud.
Next, it was time to dig into the ice cream!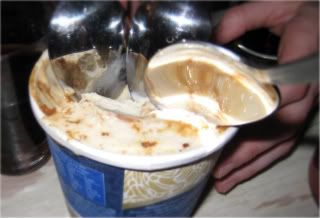 Oh God, the salted delicious caramel-i-ness. I feel the drool forming just thinking about it. The baby Jesus was certainly not crying as we ate it.
After about two and half bottles of rioja, we had the brilliant idea to create a second and much more involved TablesKape. Here it is (although I'm embarrassed to show you the results of our drunken antics, but I love you all so much, I can't help myself):
The lemon's still there (clearly), but now we have the addition of a few key items. Things that make any sKape better. Stephen Colbert, Bernie Williams, Yankees paraphernalia, and, the most important,
floating wine glass
. God, we are such degenerates. Although, this makes slightly more sense if I tell you we were watching the Yankees game at this point, as "30 Rock" and "The Office" had been long over.
As far as the actual shows go, I really enjoyed "30 Rock." I love seeing Liz Lemon as kind of evil ("I am the DECIDER!") and Jack playing her, what with the stuttering and sweeping piles of dust, was awesome. I actually really like the Pete subplot, and died laughing when he dialed his own extension at random. Plus, I actually liked how they kept paralleling the episode with what was happening on MILF Island, even if it was a little obvious. For "The Office," I don't know. It was really an episode that shows how uncomfortable the show can be to watch at times. I definitely need to watch it again, I always like those kinds of episodes more after repeated viewings. I just kind of feel the writers are painting Jan into a corner here, what are they going to do? Send her to a mental institution? I can't see any other way to deal with her character (since we all know she's not going to be Michael's girlfriend for long, not after she broke his TV with his own DUNDIE. That's messed up!). It kind of sucks, I think she's an awesome character, so deeply flawed and crazy, but never as overtly mentally unstable as in this episode, in my opinion.
There were some good moments, though. Angela asking what she's supposed to do with the flower and telling Dwight she doesn't want to put one of his beets into his mouth. Ed Helms in general (him harmonizing with Hunter's song, come on, how is that NOT awse?). Jim trying to leave Pam at the condo and almost vomiting at the smell of the fire candles. Also, Pam's "Awesome!" when Dwight showed up was too, too cute. As much as I think Jan is a waste of a character now, her, "Oh, this will be great to cook with" in response to the wine Pam brought was so hilariously bitchy, it was probably one of the few times I laughed out loud. I'll watch it again, I promise. Don't yell at me for not liking it so much.
So, getting back to The Return, thus basically ended our evening. Well, there were some drunken discussions about living by ourselves on an island compound, the state of food in the American South, and I'm sure a lot of me screaming, "I love Ed Helms," but that's all you guys need to know about. Well, maybe one more thing:
I really love Brett Favre.