Yeah, I know. A little late on the Ed Birthday post, Iko. Well, I have this thing called a job and this other thing called class. Then there was this other thing, the Superbowl - which involved me fashioning the logos of the teams I chose to believe were playing:
and making some food. Whatever...I was busy, I'm sorry. Actually, I am sorry, seriously. I heart Ed and wanted to do his birthday justice. So here (belatedly) we go.
In honor of Ed's birthday, I wanted to make some food Ed would like. While, I probably should have made some Southern treats, in honor of Georgia, I didn't feel like buying a few gallons of peanut oil, in which to deep-fry, nor did I want all that breaded, oily goodness going directly to my ass, so I chose Italian (based on
this article
, which I posted before). Though, to be fair, I fashioned some real iced tea to make Arnold Palmers (a true Southern drink).
Here's the eggplant carnage: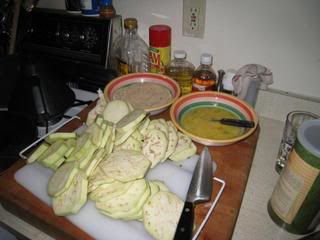 That's about 2 lbs of eggplant - peeled and sliced about 1/4" thick. The breading station, flour (not pictured), eggs, and bread crumbs. Also, the dreaded PAM, which SOME people like to place atop other, sleeping people...
And, here's the finished Edparm (actually, that sounds like I made the parm. out of Ed, it's actually eggplant parm.):
That would be fresh-made marinara, eggplant, fresh mozzarella, basil, and Parmesan cheese.
The rest of the food: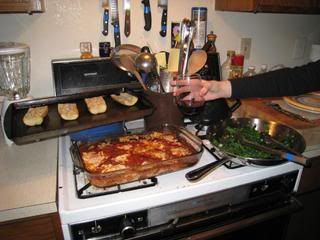 First, notice the garlic bread placed atop the Le Creuset, to add height and interest to the tablesKape. The broccoli rabe was sauteed in garlic and olive oil. The eggplant parm. recipe will be posted later, no worries. Also, notice the floating glass of wine...if I hadn't had to go to work earlier that day, I would have found a way to suspend the wine directly from the ceiling, perhaps from a complex system of ropes and pulleys. Or, maybe using a piece of clear fishing line, so it appears to float above the sKape as if hanging from nothing.
The EdsKape: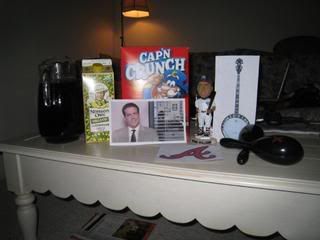 From left to right (back row): The lemonade and iced tea for Arnold Palmers, Ed's favorite dinner - Cap'n Crunch, Bernie Williams bobble-head (to counteract the Braves logo, also, because I love #51), a picture of a banjo (relevance - Ed plays the banjo and I don't have $2500 to buy a real one for a TablesKape, Sandra Lee).
From left to right (front row): A picture of Ed, as Andy on "The Office," the Atlanta Braves logo (Ed's favorite baseball team - he's from Atlanta), and some maracas, b/c I thought they were festive and marginally related to the episode of "The Office," "The Return," in which Andy punches a hole in the wall and Dwight and Oscar return to the office.
The rest of the evening, not spent eating and drinking, was filled with episodes of "The Office" and one episode of "Arrested Development" which featured Ed. The brilliance of Ed was acknowledged and the food was devoured. A strong tribute to Ed on his birthday. Maybe next year I'll go to L.A., find Ed, and buy him a drink. And receive my first restraining order.