Day One (Friday):
So, we picked a bad day to drive down to DC from Jersey...there was about 5 inches of snow on the car to scrape off, but, once we made it to the major roads, everything was good. One quick stop to pick up Man-Dawn and we were off, into the snow, and ice, and sleet. Unfortunately, we were unable to use the car with the navigation system, so we were forced to resort to the archaic Google Maps, but that mofo got us to the condo. It did not, however, tell us on which concrete slab to park, or, how to drive up the 60 degree incline necessary to park on the correct one. Finally, through some amazing parallel parking maneuvers by BMG, we had arrived!
It was time to find food and Stephen!
To the Dupont Circle Metro!
Unfortunately, being that we're all from Jersey, and accustomed to the delightful NYC MetroCard, the FareCard machine confused us greatly...why does it automatically put $20 on the card? Do we want a single ride or multi-trip? Why is there so much writing and why are there so many buttons? Why is the maximum change $5.00? Finally, three college graduates with 3/4 of two Master's were able to make sense of the Devil Machine and purchase out cards. (Side bar: WTF is up with having to put the card through the turnstile twice? Shouldn't you just have to put it INTO the thing once? DC, your metro is fairly clean, but those FareCards will end me).
(Devil Machine)
A short trip from Dupont Circle to Gallery Place and we had arrived! From the stop, we could see the Portrait Gallery, but mini burgers were calling us, having eaten only a bag of Trader Joe's Everything Pretzels during the ride down. Thus, we were off to
Matchbox
, just a few blocks from the Metro.
Matchbox was good, although I think we should have stayed away from the "Matchbox Meat," you'll see why in a bit. Having studied the menu extensively before our trip and having decided to go there solely based on it's proximity to Stephen, I had already decided what we should order - the 3.6.9 burgers* and a pizza. And some wine/beer. The Malbec was delicious, BMG seemed to enjoy his beer, and then came the burgers:
Yes, that's an actual mountain-sized pile of fried onions balanced precariously atop the miniburgers.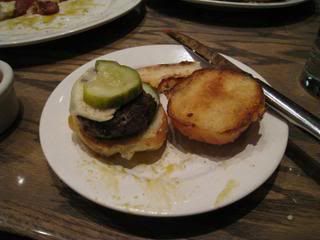 (Buttery goodness)
Yes, that's a buttered roll - buttered inside and out. Fat on top of beef, topped with fried onions...Paula Deen would be proud.
Next came the pizza named the Matchbox Meat: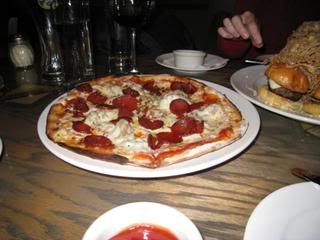 (so much meat....TWSS)
Pepperoni, sausage, and bacon on a pizza - Meaterrific! Also, a lunch/dinner entirely filled with fat and grease, resulting in a lack of appetite for Jaleo (for some). More on that in a bit. That being said, we did a fair amount of damage...but those fried onions...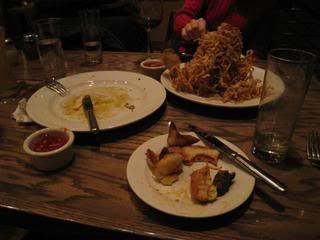 (Damn you totally ridiculous amount of onions!!! Why does your amount never decrease, no matter how many of you I eat?)
Once we paid and wandered out into the mist (yes, there was a mist covering everything)...finally! it was time to see Stephen! Upon entering the
National Portrait Gallery
, a kindly man at the Information Desk asked us if we need anything, to which I replied, "A map." The gentleman then replied, "Certainly, is there anything in particular you wanted to see?" And I, like the lame-ass that I am (perhaps helped by the wine), replied, "Is it alright if I say, 'Stephen Colbert's portrait?'" Thankfully, the nice man just smiled and explained where it was and how to get there in great detail. I mostly expected him to call security to see us out. Just across the courtyard (no time to walk on the water now), up a flight of stairs, and to the left...I could see a sign for the bathroom...could it be? Had I really arrived? As I peeked around the corner of the restroom sign...THERE IT WAS! Hanging above two water fountains, in between the Mens and Womens rooms: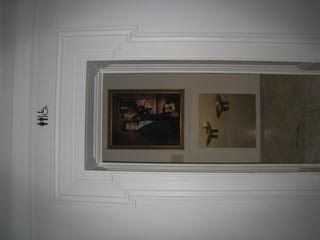 (So beautiful)
I think a yelp of excitement left my mouth. Here we are frolicking below the portrait: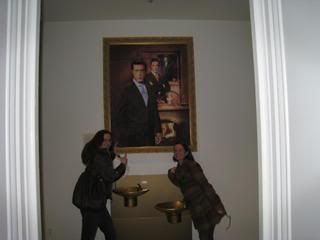 If I had known about
this site
, I would have jumped in front of it...
Next, we went to see the other portraits and art in the gallery: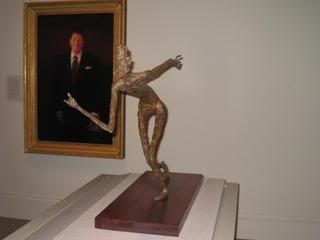 GWHB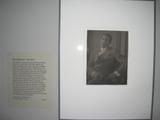 Paul Robeson - Rutgers in the house!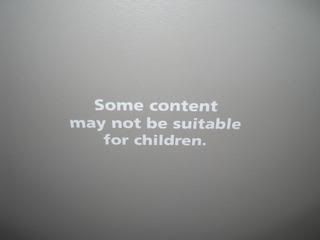 This was kind of funny...and appropriate.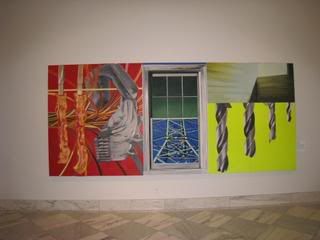 Mmmmmm...art of bacon
We had clearly had our fill of culture at this point, so we headed back to the condo to meet up with NC for dinner. We had some time to kill, so we watched a brilliant piece of cinematography, "Tommy Boy." Whatever, guys, it IS a good movie. I had actually forgotten how funny that movie was - partially because the only time I ever watch it is on TV on a Saturday when they edit the crap out of it. How is the part when they run out of the car yelling "Beeeeees!!!" not funny? Anyway, our dear friend, Man-Dean** met up with us at the condo before dinner and we all headed out to
Jaleo
for some delicious wine and tapas.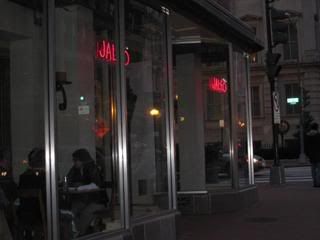 Now, being that I'm kind of an idiot, I have one picture inside of Jaleo, no, not the food, that would have been good, iko. Well, you ask me, "is it a picture of you all at the table?" No, that would have been awesome, though! It is, in fact, a picture of the giant gold post we had to stand next to while waiting for our table: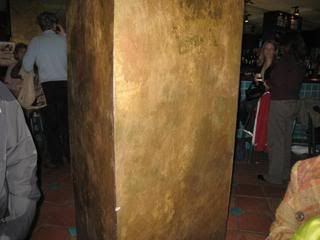 (Aah, beautiful pole, how I miss you)
Actually, I was too engrossed with the wine and food and forgot to take any pictures of the food - which was, to be fair, the main reason for bringing my camera to the restaurant, so that worked out nicely. Although, I have yet to figure out how to use my new camera to take indoor pictures, so they probably would have been pretty bootleg-looking (more on that in soon-to-be-posted "DC - Day 2 (Subtitle: We are hungover and so can you)").
But, here is the list of tapas we had and a star scale of deliciousness, in the style of the Michelin Guide, with three stars being the highest rating anything can achieve. Ever. (1 star = delicious, 2 stars = more delicious, 3 stars = the most delicious thing I have ever placed atop my tongue)
Coles de Bruselas
- A warm salad of Brussels sprouts, apples, apricots, grapes and Serrano ham (***)
Ensaladilla rusa
- A classic Spanish salad of potatoes, imported conserved tuna and mayonnaise (**)
Tortilla de patatas
- Spanish omelet with potatoes and onions(*)
Gambas al aijillo
- The very, very famous tapa of shrimp sautéed with garlic and guindilla pepper (**)
Garbanzos con espinacas
- A Moorish stew of chickpeas and spinach (***)

Costillas de buey guisadas en vino tinto
- Beef short ribs braised in red wine served with a potato purée (***)

Chorizo casero tradicional
- Homemade traditional chorizo on a purée of garlic potatoes (**)
Also, some kind of seared salmon with roe, it's not on the online menu, so I can't write the actual name here, since I don't speak Spanish. Plus, I don't remember what was in it, I think apples, but it tasted vaguely like gorgonzola. And, quite frankly, wasn't that good, (1/2*)
BUT, the best thing we had - the cured meat platter, including,
JAMON IBERICO
. (drool) It's like prosciutto, but better. The pigs frolic about the countryside, then are fattened up with acorns, then (through magic) made into a delicious, salty, thin slice of heaven. I wish I had a picture of it. Also included in the delicious meat tasting - chorizo, soppresatta, and something else I don't remember, maybe Serrano ham(?). (******************)
We also has an assortment of red wine (mostly rioja, from what I can remember), none of which I wrote down (I am truly the greatest dinner recapper ever). For dessert we ordered a chocolate hazelnut cake, which the waitress forgot about, but promptly brought us once we reminded her and brought out an extra dessert, a fruit soup with (I think) yogurt ice cream - I really need to not drink so much wine when I need to remember what I ate. Overall, a fair amount of food for us to eat, keeping in mind three of us were still full of grease, beef, and the Matchbox Meat, and one of us (BMG), didn't eat any of the tapas, but imbibed a strong amount of wine.
Thus ended our jaunt to Jaleo and we cabbed it back to the condo to continue the fun times. Since we left the restaurant at 12 am, that was technically the end of Day 1. And since this is the longest post ever, I'll end Day 1 here and pick the degeneracy up at the start of Day 2. To be posted once I actually get some work done...
*3.6.9 because you can order 3, 6 or 9 of them. Also, they're very small. And delicious.
** Yes, THAT Man-Dean. The elusive creature who once lived in NJ, then moved to VA and fell off the face of the earth. The same Man-Dean who saw Pangea split into the continents and the vary same who would impart his vast wisdom upon us at Ye Olde Environmental Science lab.