I was looking through the various posts I have saved in my blogger account, searching for something, I don't know what. Maybe my lost dignity, maybe any semblance of intelligence on my part, maybe it was just to see what kinds of idiocy I've written about since the beginning of this year. At any rate, I came across
this post
, in which I skewer RayRay for her stupid "stoup" and say that I will post a blog with the "word" "stoup" in the title so I can sue her for plagiarism and live off the subsequent (and copious amount of) monies I am sure to receive. So, here's the recipe for STOUP. It's good to make a lot of it, freeze the extra, then bring it to work for lunch. Even when it's warm outside - workplaces always crank the AC in the summer anyway.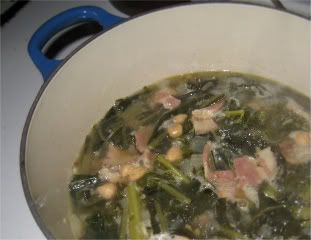 Ingredients:
olive oil
4 strips bacon or pancetta, chopped into 1/2-inch pieces
1 large onion, finely chopped
2 cloves garlic, finely minced
2 bunches of kale, chopped (I think the soup I made actually had 1 bunch of kale and 1 bunch of dandelion greens)
2 cans chickpeas, drained and rinsed, or you can cook them from dried beans, again, I'm lazy and pressed for time. Plus, I really like sodium.
1 quart chicken broth/stock
water
salt and pepper
Procedure:
1. Pour about a teaspoon of olive oil into the bottom of a blue, Le Creuset 4 1/2 quart round oven and heat over medium heat.
2. Add the bacon pieces and render the fat until the pieces are a little crispy at the edges, maybe 5 or 7 minutes.
3. Remove the bacon with a slotted spoon and pour off some of the bacon fat, leaving about a tablespoon or so.
4. Add the onion and sweat until translucent, but not browned, about 7 minutes. Add the garlic and cook for 1 minute more.
5. Add the chopped kale (and dandelion greens) in batches and saute until slightly wilted. Add the next batch of greens on top of the wilted greens until they've all been added and wilted down slightly.
6. Add the chicken broth/stock and add the chickpeas.
7. Add some water, if necessary, to bring the STOUP to the consistency you desire. Keep in mind, some of the liquid will cook away and that it's very easy to add a little water or stock as needed, don't add too much or you'll be trying to boil that mofo down for hours.
8. Simmer the STOUP for about 20 minutes, so the flavors can blend and the kale can cook down.
9. Add the bacon back to the soup and season with salt and pepper.
10. Serve with a few toasted pieces of baguette, perhaps drizzled with olive oil and sprinkled with some freshly grated Parmesan cheese.
11. Enjoy your delicious STOUP and revel in the fact that you're NOT RayRay.